Most anticipated cultural programs of fall 2015
Posted by
Ágnes Taraszovics
· Sep 11, 2015
Autumn is the season of harvest and wine festivals, but there are many other things to do! Numerous great cultural programs await and we collected our favorites.
The Godfather Live Concert
What else can it be than the legendary film and its soundtrack? The Godfather Live show presents the legendary history of New York's gangland in a different, news artistic approach. It's not just a simple film screening or a soundtrack concert, but the mesmerizing combination of these two. While the film is on big screen in HD, the glamorous background music is played live by a symphonic orchestra conducted by Justin Freer! Throughout the Godfather Live tour (so in Budapest too) the film is shown digitally re-mastered in its full length and in its original English language version with subtitles in the local language.
October 09. 2015, Papp Laszlo Arena
https://www.youtube.com/watch?v=CqXLIPzoVtI
Art Market Budapest 2015
The Art Market Budapest international contemporary art fair presents artistic compositions, that worth our attention. Some of them are known from the most prestigious international trade fairs, but they give priority to the young, sometimes never seen artists and galleries, including the emerging stars of the future. The main element of the program series is the art fair, in which galleries and art projects (non-profit organizations, art houses, artist groups, etc) present the artworks of (mainly) Central and Eastern European contemporary artists on the spectacularly decorated exhibition stalls. The big variety of exhibiting galleries and art projects, the large number of artists and works of art exhibited and the genre diversity provides a spectacular form of representing visual art.
October 8-11, 2015. Millenáris Park
photo:artmarketbudapest.hu
Red Army Choir
The ensemble is the official, professional ensemble of Russian Red Army (the former Soviet Union Red Army), and one of those things that come to our mind if we think of Russia. The band, consisting of a male choir, orchestra and dance ensemble is breathtaking. The ensemble of hundreds of singers, dancers and musicians-member has the unique right to use the "Red Army Choir" name in addition to Alexandrov. The Red Army Choir is coming to Budapest accompanied by corps de ballet, and we can hardly wait to see dozens of singing soldiers in uniform and the dancers dressed in traditional costume.
September 29. 2015, Papp Laszlo Arena
https://www.youtube.com/watch?v=Q-jsXGLysCU
National Gallop
The aim of this unique event is to preserve the Hungarian equestrian traditions in worthy standard, to promote the successful domestic horse riding sport and to facilitate the cohesion of the equestrian society. In this spirit, the best riders of Hungarian settlements start in the race to win and to show their knowledge. Our nine equestrian disciplines have prominent role on the National Gallop (in addition to the races), so the general public can become more familiar with the world-class work of the domestic equestrian world.
September 18-20. 2015, Heroes Square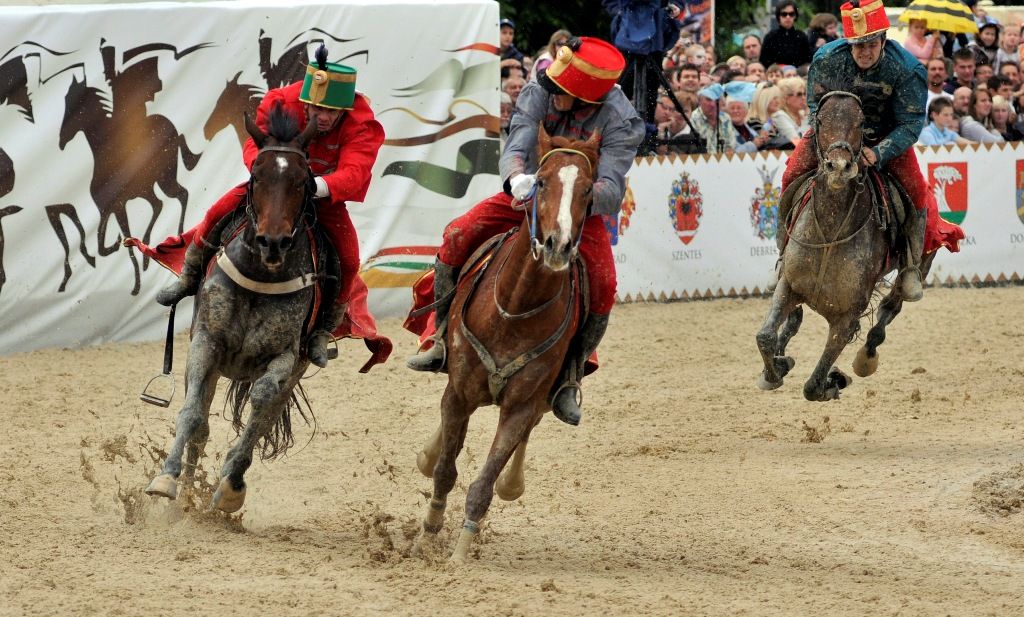 photo:pb2.jegy.hu